One thing that Belleboo's fans might not know is that I'm quite a believer in fortune telling. Not exactly that I expect everything to be predetermined, but at least, it usually gives me a feeling of reliefs.

Every day at the Belleboo office, I always come in wearing lucky colors. I even put a printed copy of a lucky colors guide on my closet. It helps remind me every morning to wear the right colors so that I always have a good start for the day.

Today, I would like to share the latest update of the lucky color table for the second half of year 2020. With this color guide, you will know exactly what colors you should wear each day. But finding high quality clothes with the right color is not always easy. Therefore, at Belleboo, we are offering 100% cotton printed fabrics with over 1,000 printing styles available for our customers to mix & match depending on one's preferences. Not only that you will be wearing a lucky color, but with Belleboo printed fabric, you will also be the coolest!
Update! Lucky Colors Table for the Second Half of 2020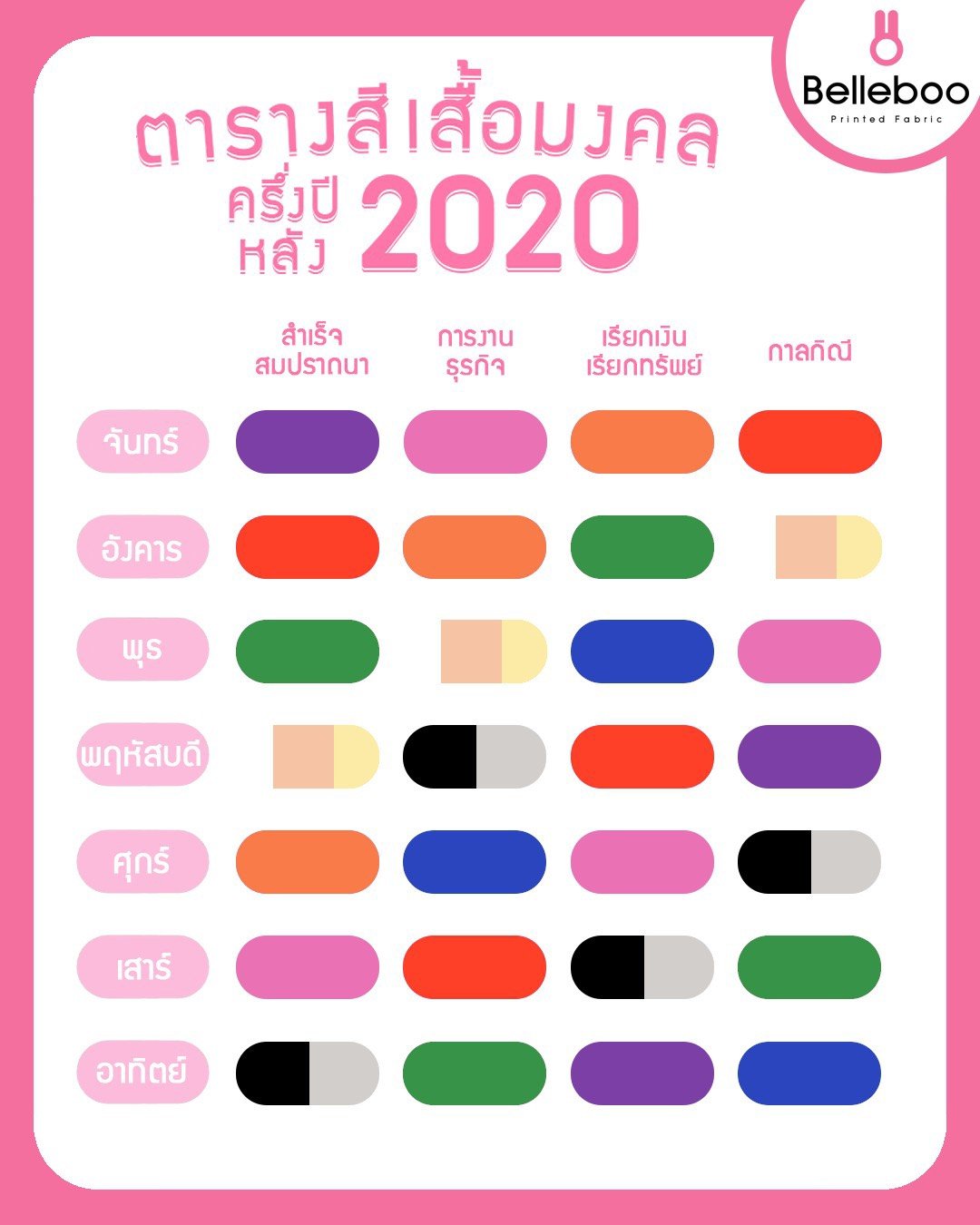 Many people have asked me how I choose the right chintz that matches with lucky colors?

Well. It's actually very flexible. There are various lucky colors on each day in a week. You can wear just one color or dress in multiple colors in a day depending on your style and how you want to be looked!

Some of you may ask... "what if I want to be different?" or "I don't want to wear same colors as most people"

Okay. Let me give you another guide to select lucky colors that are specially for you.

This method is quite simple. Just look at your birthday and sum up your date, month, and year. Then you sum all digits again and again until the outcome is a one digit number.

Take this as an example, let's say my birthday is 01.01.1989.

The calculation can be done like this;
Step1: 0+1+0+1+1+9+8+9 = 29

Step2: 2+9 = 11

Step3: 1+1 = 2

Therefore, my lucky color is a color that represents number 2. You can see specific lucky colors for each number as follows;

Number 1 and 6 should wear Yellow and Brown
Number 2 and 7 should wear White
Number 3 and 8 should wear Green
Number 4 and 9 should wear Blue, Grey and Black
Number 5 should wear Red, Orange, Pink and Purple

For anyone who's looking for a guide to have a good day, try this out! And when you see some results, let me know!


Before I go, I want to remind you again that this is just a belief not a magic, so don't expect everything to always be good by just wearing the right color. It's better that no matter how bad your day is, you stay happy and live the best out of it :)


P.S. If you want to be lucky in style, wear Belleboo and choose the right colors for your day!